Graduate Students
Omayma Al Azzam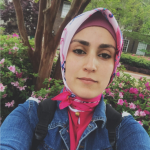 Ph.D. Candidate – Engineering Science, Emphasis: Chemical Engineering
M.S. Chemical Engineering, University of Mississippi
B.S. Chemical Engineering, Jordan University of Science and Technology
Project: Myosin ensemble synergy in higher actin architectures
Undergraduate Students
Mallory Moffett
Senior – B.S. Biomedical Engineering, Emphasis: Biomolecular
Sally McDonnell Barksdale Honors College
Post-graduation aspirations: Pursue a PhD in biomedical or bioengineering
Project: Biophysical Mechanisms of Cytoskeletal Crosstalk
Henry Seiler
Senior – B.S. Biomedical Engineering, Emphasis: Biomolecular
Sally McDonnell Barksdale Honors College
Post-graduation aspirations: Attend medical school or graduate school
Project: Biophysical Mechanisms of Cytoskeletal Crosstalk
Khadeejah Franklin
Junior – B.A. Psychology, Minor in Chemistry, Biological Sciences, and Communication Sciences and Disorders
Sally McDonnell Barksdale Honors College
Post-graduation aspirations: Attend medical school to become a surgeon
Project: Impact of the COVID-19 Pandemic on Student Parents in STEM Disciplines
Emily Kerivan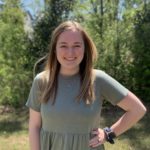 Junior – B.S. Biomedical Engineering
Funded by the UM SURGG Program
Post-graduation aspirations: Work in biomedical engineering industry or attend graduate school
Project: Assembly kinetics and viscoelastic properties of actomyosin nanocells
Lydia Robbins
Junior – B.S. Biomedical Engineering
Sally McDonnell Barksdale Honors College
Post-graduation aspirations: Medical school or work in biomedical engineering industry
Project: Actin-microtubule cytoskeletal crosstalk
Alexa Saval
Junior – B.E. General Engineering, Emphasis: Pre-med
Sally McDonnell Barksdale Honors College
Post-graduation aspirations: Attend medical school
Project: Impact of the COVID-19 Pandemic on Student Parents in STEM Disciplines
Janie Watts
Junior – B.S. Chemical Engineering
Sally McDonnell Barksdale Honors College
Post-graduation aspirations: Work in chemical engineering industry
Project: Myosin ensemble synergy in actin assemblies
Lab Alumni
Graduate Students
Cameron Lee Trussell, Class of 2022
Undergraduates
Ashwin Sivalingam, Class of 2022
Addison Caspari-Linhardt, Class of 2021 – Medtronic
Baylee Howard, Class of 2021 – Law School, University of Mississippi
Ashton Murrah, Class of 2021 – Dental School, University of Mississippi Medical Center
Jake Smith, Class of 2021 – Quality Engineer, Tegra Medical
Juliana Davis, Class of 2020 – Boeing
Justin Reynolds, Class of 2020 – Medical School, Auburn University
Rex Barron, Class of 2020 – Veterinary Technician, Oxford, MS
High School Students
Nathan Lee – Mississippi School for Mathematics and Science, ARISE Participant (Summer 2019)
Anish Bandari – Oxford High School, ARISE Participant (Summer 2021)
Group Pictures
2021 Nanoengineering REU Poster Session
Rising junior Janie Watts and high school senior Anish Bandari participated in the Nanoengineering REU and ARISE programs during summer 2021.
2021 Honors College Graduation
Seniors Addison, Baylee, and Ashton each successfully defended their theses after spending two years in the lab (during the COVID-19 pandemic at that!). Congratulations!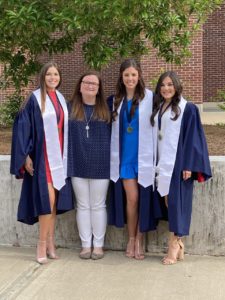 2020 Mississippi Academy of Sciences Meeting – Biloxi, MS 
Graduating seniors Justin Reynolds, Juliana Davis, and Rex Barron presented in the Physics and Engineering division poster session at MAS.  Their poster received Honorable Mention in their category — congratulations!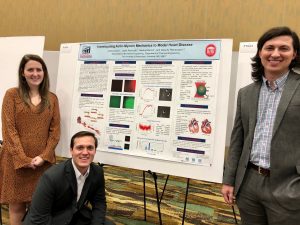 Summer Undergraduate Research Experience in Nanobiotechnology 2019
American Chemical Society National Meeting, Orlando, FL – 2019
Southern Biomedical Engineering Conference, Hattiesburg, MS – 2019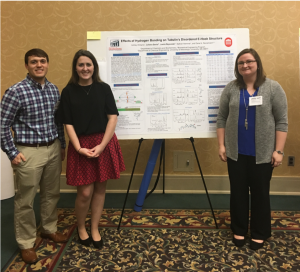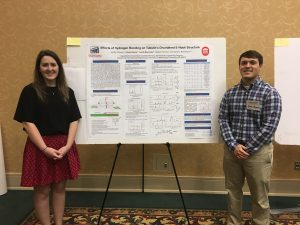 2019 Student Chapter of the Biomedical Engineering Society at SBEC 2019